Control Meets Elegance
The technology behind your Manalapan, NJ area home automation system is only as good as the device that allows you to control it. Once we have integrated your new smart home with intelligent systems, the fun parts is taking control of any of those systems with the magical touch of a simple elegant device. The true measure of wizardry (afforded you from a broad range of devices) allows you to control all the systems in your home seamlessly, while the technology behind them remains completely hidden from the naked eye. We work with nothing but the best manufacturers to offer you a choice menu of capable products and devices to meet your project goals. Feel free to contact us for more information.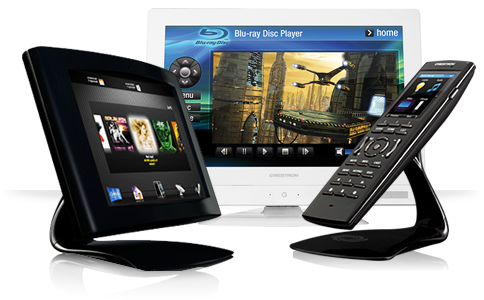 You don't need multiple remotes just to watch television, or a wall filled with switches and knobs that takes you 3 tries to find the right light. Take control of your home with just one button press from a sleek Crestron touchpanel, designer engraved keypad or your iPad™, iPhone® or iPod® touch. Select a movie to watch or music to enjoy from your favorite chair. Adjust your lights, shades, temperature and check on your alarm system without getting out of bed. The comfort and convenience of the ultimate technology lifestyle can be yours. The possibilities are endless, whatever you can imagine Crestron can do.

Savant transforms your Apple® iPad®, iPhone®, iPod touch® and even your traditional HDTV into your very own personalized control portal for everything that matters most in your life or business. Savant becomes your light switch, your thermostat, your personal media player, your on/off, open/close, up/down button from just about anywhere in the world.  What was once complex and confusing technology is now progressively smart with Savant.

LG is a large electronics company that designs innovative technology, including TVs, DVDs players, audio solutions, appliances, smartphones, and more. Their audiovisuals deliver superior sound and picture for your entertainment and enjoyment. From 4K to Hi-Fi, they have a high-tech solution for both your home and business.

The earliest versions of Séura products were assembled in 2003 in Tim and Gretchen Gilbertson's garage workshop. Their first product line was Seura's Enhanced Series Vanishing TV Mirrors. As interest in their ideas accelerated, so did their production. And as demand grew, so did Seura. They soon added the Premier Series, Deco Series, Lumination Collection, and Hydra Waterproof Televisions to their line. With innovation at the heart of the business, Seura continues to define the category with each engineered and hand-crafted product from their facility in Green Bay, Wisconsin.

Home theater and hi-fi speakers with iPod speakers, headphones, subwoofers, surround sound, studio monitors, floorstanders and more from Bowers & Wilkins. Bowers & Wilkins has a long history of technological innovation in its pursuit of the perfect loudspeaker. Whether it's through the innovative use of materials such as Kevlar and Diamond, new solutions to complex engineering conundrums, or 'eureka moments' of brilliance, Bowers & Wilkins engineers constantly strive to produce the best possible sound.

James Loudspeaker, an industry leader and innovator in both high-end residential and commercial speaker solutions. (indoor, outdoor, and marine). Manufacturing since 1999, we take pride in our sound innovation, unprecedented custom work, flawless sonic reproduction and excellence in design and quality. All James products are specially designed with minimal visual presence in your interior or landscape designs. The result is solid sonic precision in the beauty of your surroundings.

Whether an action-packed blockbuster, a stadium concert or a quiet romantic comedy, Sonance home theater solutions deliver powerful detail and clarity for multi-channel film soudtracks and musical performances. Sonance has solutions for nearly every use whether it's your home theater, the backyard, multi-room audio and much more.

The number of unique technologies that have been developed by Meridian over the course of the company's history is impressive in itself. That these technologies have set standards for the rest of the industry goes even further to prove a reputation for innovation and the pursuit of perfection. The results have been some of the most highly-praised audio equipment in the world.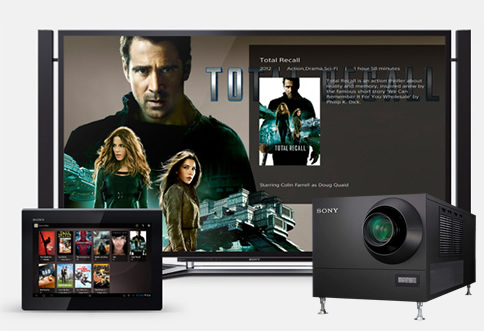 Picture quality so lifelike it's like looking through a window. Skin tones, lush landscape foliage and countless details come to life as the X-Reality™ picture engine optimizes the color, contrast and textures of each object individually. The X-Reality™ PRO engine adds unprecedented detail and delivers an infinitely broad spectrum of color by enhancing each scene, pixel by pixel, for our most true-to-life picture yet.

Stewart Filmscreen Corp is recognized as the "benchmark" manufacturer of projection screens worldwide. The qualities that make Stewart Filmscreen products the pinnacle of optimal function and value are guaranteed by extreme attention to detail throughout all of the activities of the company.

Your home and your workplace should be designed to complement your needs. As your needs change throughout the day, your lighting should adapt as well; bright to read a book, but dim for computer use. Whether you are at home or at work, Lutron solutions provide convenient access to light control, creating a comfortable atmosphere to support your activities throughout the day.