Elegant Lifestyles Are Made Possible With Home Automation
Distinguish Your Greenwich-Area Home From All the Rest With Technology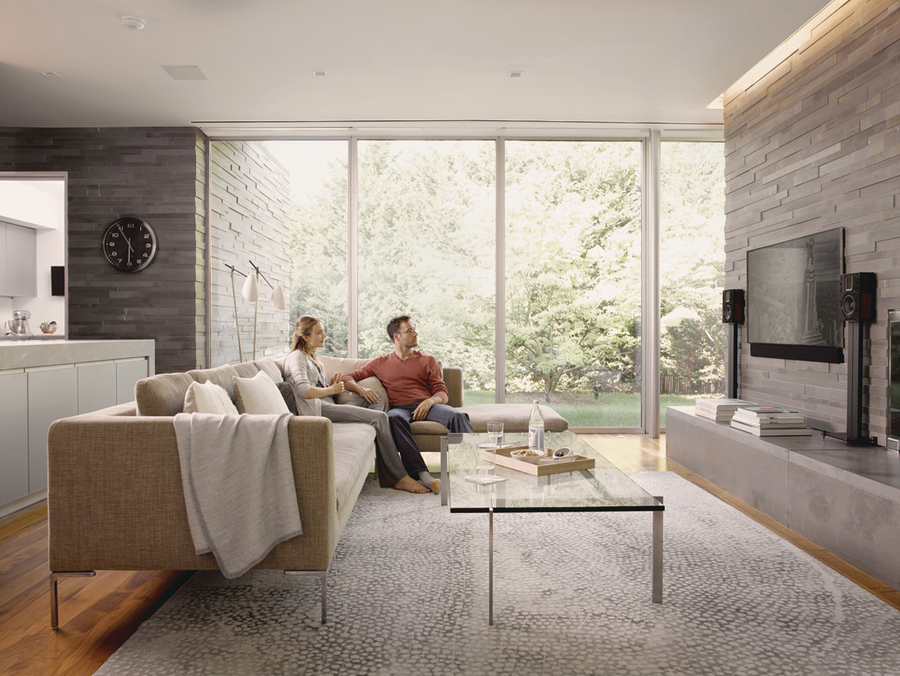 Imagine walking into your Greenwich, CT, home and it responding to your every need. Lights turn on automatically as you enter the foyer at the end of a long workday, and your favorite music station begins playing as you walk from the front door to the kitchen to start preparing dinner in the evening. This is possible with home automation.
From preprogrammed smart scenes to tap-on-demand control, a home control system makes your life easier while also elevating your luxury lifestyle. Read on below to learn of three automation solutions you can add to your home so it can respond to your daily needs!
SEE ALSO: Top Benefits of a Smart Home System for Your Daily Lifestyle
Motorized Shades
Automated window treatments can add a pop of color and incredible convenience to your Connecticut home. You can protect your interior furnishings with a variety of fabrics and styles—sheers that allow sunlight to filter through or blackout curtains that provide privacy and protect your video displays from annoying glare while you're watching a movie.
Instead of walking throughout your expansive home to open or shut every window shade, simply press a button on a custom-etched wall keypad designed to complement your interior design motif. You can also program your shades to work in conjunction with your other smart technologies—a 'Good Morning' scene can raise motorized shades to let natural sunlight into your bedroom while lights gradually brighten, and your audio system plays the local news station as you prepare for the day ahead.
Climate Control
From the Savant Pro app, you can monitor your entire property. You can adjust your thermostat remotely and set specific temperatures in different areas of your home. If you have a vacation property, you can keep an eye on it from afar and receive alerts if there are extreme cold or humidity fluctuations.
Temperature sensors can also work in tandem with motorized shading and HVAC systems—if the room becomes too cold in the winter, then shades can rise to let sunlight into your room for natural warmth, so the heater doesn't have to work as hard to raise the temperature.
Whole-Home Audio
You can listen to relaxing jazz when you cook dinner in the kitchen while the kids stream their favorite pop hits in the playroom, all from one audio system. You can also play the same audio source throughout your entire home, including your outdoor patio. Personal music collections and multiple streaming platforms like Spotify and TIDAL are all accessible with a press of a finger or with a simple voice command.

Technology shouldn't scream at you with clunky keypads or bulky devices; it should work seamlessly in the background of your home. Home automation makes life more manageable than you ever thought possible. Connect with us using our online form to start exploring the possibilities of home control in your Greenwich-area home.

No video selected.