Take Your Backyard & Patio to the Next Level with an Outdoor TV!
Host Movie Nights & Beyond with this Upgraded Entertainment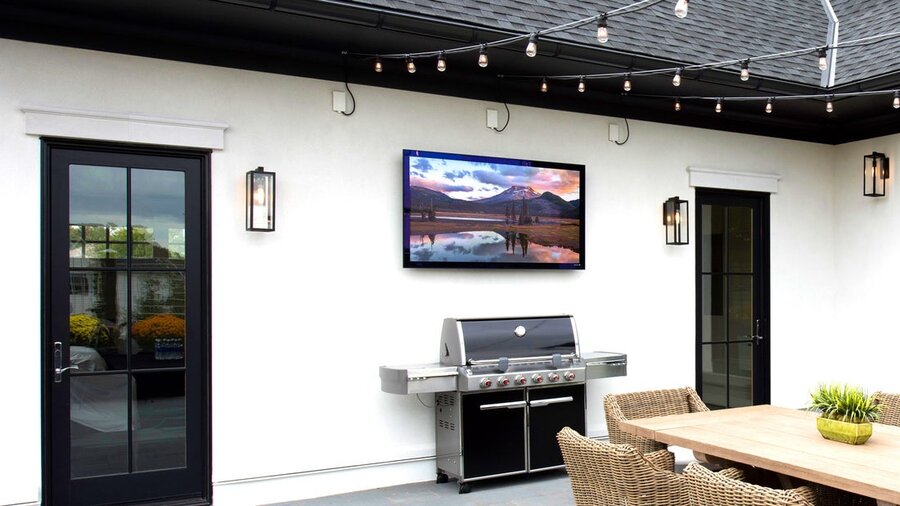 As the summer season gets into full swing, you want to make the most of your outdoor spaces. After all, there's nothing quite like a warm breeze on a summer night in Manhattan, NY - so take advantage of your outdoor areas by upgrading your outdoor entertainment.
By bringing a high-end outdoor TV to your outdoor spaces, you can enjoy your media in a new way and provide top-notch entertainment for your friends and family all year long. Want to learn more about what an outdoor display can do for your property - and how you can make the most of yours? Just keep reading on below.
SEE ALSO: How to Choose the Right Outdoor Audio System
An Outdoor TV for Every Occasion
Make every summer day and night a memorable one with your loved ones. An outdoor TV can give your rooftop or balcony the boost they've been in need of with upgraded entertainment that impresses every time you press play.
Host a movie night under the stars, fire up the grill and put on the big game for a tailgate, or lounge and relax while you catch up on your favorite series. The options and activities are endless for the summer and all year round. And everything is at your fingertips; one press of a button on your smart device of choice can let you select a film or show, adjust the volume and settings, or browse through your media libraries with ease.
A Trusted Brand for Your Display
For a high-end video display that is built and designed solely for outdoor use, we highly recommend a TV from Séura. Séura specializes in outdoor displays meant for any type of shading or sun-lit space. Depending on how much sunlight hits your screen daily, you can choose the screen that is best for your designated installation spot.
Additionally, Séura screens can withstand anything Mother Nature has to throw at them. Rain, snow, and more won't affect your TV's performance the following day. With Séura's sleek design, it'll enhance its surroundings while never intruding on your personal decor and aesthetics.
Work with Electronic Environments for Your Installation & Setup
Don't go at an outdoor TV installation alone or with any sort of DIY solutions - rely on our team of experts at Electronic Environments for every step of the process. As we work with trusted brands like Séura, we only bring the best products and solutions to your setup, guaranteeing an outdoor TV installation that performs perfectly the day of implementation and long after. Trust Electronic Environments for your entire outdoor TV installation and setup process!
Want to find out more about bringing a high-end outdoor TV to your backyard and patio space? Give our team at Electronic Environments a call or fill out our online contact form to schedule a no-obligation consultation with us. We look forward to hearing from you!